FAQ
Q: What is eNext returns policy?
A: All products sold on eNext Technologies Sdn. Bhd. are not returnable or refundable. However, with valid reason which stated below, you may return your item to us within 7 calendar days. Countdown starts from the date you received the item to the post stamp stated on the parcel you return to us.
Q: For which reason can I return an item ?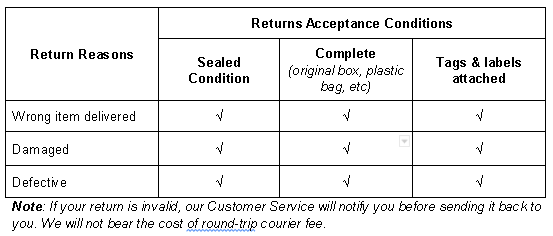 Q: How do I return an item?
A: Please contact our customer service at 017-387 9425 or email [email protected] and provide the following information so we can assist you quickly as possible.

1. Your name
2. Contact number
3. Date of purchase
4. Your invoice number
5. Brief description of the problem you are experiencing
Q: Can I return an item after 7 calendar days upon receipt?
A: Your item cannot be returned after 7 calendar days.
Q: When will I receive a replacement/refund?
A: Replacement/Refund process only begins after we have completed evaluating your returned product. The quality evaluation process may last up to 3 business days. You shall receive replacement or refund within 7-14 working days.
Q: Will eNext help return a cartridge to the manufacturer for warranty?
A: Yes. We offer a manufacturer's warranty on all inkjet and toner cartridges. If you ever have a need for the warranty please contact us. For your information, eNext does not bear the cost of round-trip courier fee.
Q: Where to return?
A: If your item meets all requirements, please return your item post to the following address: Lot 3-052, Endah Parade, Jalan 1/149E, Taman Sri Endah, Bandar Baru Sri Petaling, 57000 Kuala Lumpur